A resurgence of the emo subculture, eboy evokes feelings of sadness and depression. They play with the gender boundaries between masculinity and femininity.
Table of Contents
They can be found on TikTok churning out clothing transformations and lip-syncing videos. They are also known for their floppy curls and fashion-forward red carpet-looks. Their staple wardrobe pieces are oversized jumpers, long striped shirts, black jeans, and vans.
Black Skinny Jeans
Skinny jeans are the foundation of every well-edited wardrobe, complementing casual and formal ensembles. A pair of black skinny jeans is a versatile wardrobe staple for all seasons and body types. The key is to choose a pair with the right fit, fabric, and color.
Look for skinny jeans that are stretchy and comfortable. Jeans with a high percentage of elastane are an excellent choice, as they are more forgiving than jeans with only cotton or a synthetic blend. Also, look for a pair made from sustainable and organic fabrics.
Black Hoodie
What is an eboy culture? In eboy culture, black hoodies are worn as fashion statements. Often, boys wear hoodies with sleeves tied around their necks, a popular style known as "sleeve-up." This hoodie is usually made from a soft material like cotton. In addition, they wear a black shirt underneath the hoodie.
The eboy outfit influence is sometimes viewed as an expression of progressiveness in fashion and gender politics among the male demographic. This is especially true for the subculture's stance on sexuality and gender fluency, which involves exhibiting femininity. For instance, on social media, boys often shave their facial hair to appear less masculine and show off their feminine attributes.
The eboy culture is driven by TikTok and other online platforms that feature content created by members of this generation's youth. Their social media presence is usually centered on clothing transformation videos and lip-syncing. In addition, boys frequently produce music videos.
Black Shoes
Eboy is an urban fashion subculture born on TikTok and grew rapidly in popularity. It is a mix of emo, skater boy, and goth outfits with influences from K-pop style, 90s grunge, 2000s normcore, and Billie Eilish music. It is characterized by black painted nails and chains hanging from the pants. It is also popular to wear a denim jacket to complete the look.
Many men are fascinated by the eboy style. They believe it reflects the current male psyche and dismantles toxic masculinity. However, others criticize it as an uncool teen cliche.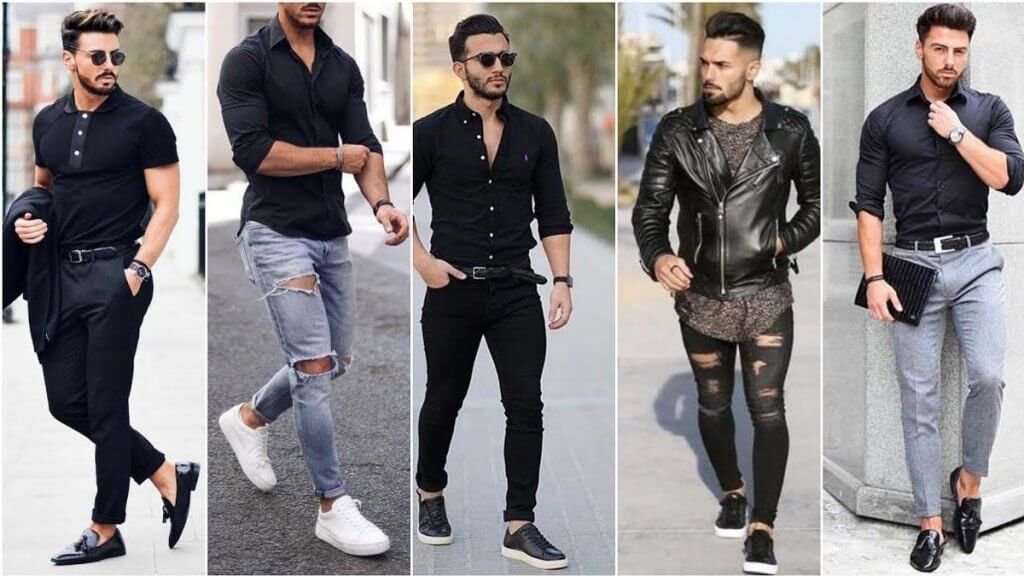 The main components of an eboy wardrobe are oversized tops with cuffed pants and black nail polish. They also wear black sneakers, Doc Martens boots, and Vans. They accessorize with a chain belt and white striped socks. They may also wear a denim jacket or chunky oxfords. They often wear a beard and dye their hair to complete their look. They usually have a messy, disheveled appearance and a very masculine and rugged look. Moreover, they often have exciting septum piercing or tattoos.
Black Accessories
A boy outfit is only complete with the right accessories. From patterned socks to chokers, metal chains to fanny pack shoulder bags, and a simple hat to a stylish mask or beanie, these items can make a huge difference in your style.
A wallet chain is a staple accessory for the eboy trend. This silver accessory hangs loosely from the belt loop of your pants, adding a touch of punk and hard edge to your look. You can find one to suit your style, whether short and slender or long and chunky.
Black nail polish is also a must-have for the eboy aesthetic. You can find several types of black nail polish, including matte and glossy. You can even find some textured to resemble ripped jeans or graffiti. Eboys also love to wear a variety of piercings and jewelry, such as big rings on their fingers, padlock necklaces, and chain belts. The eboy clothing trend is still relatively new, but it is already taking on a lot of influence from various preceding subcultures and fashion trends.
Black T-Shirt
Eboys usually wear oversized or long-sleeve black T-shirts. They can be worn by themselves or layered with other shirts and accessories. Some of them feature horizontal or vertical black-and-white stripes. Some t-shirts also have logos of bands or other brands. These are worn primarily to express their individuality and personality.
The eboy aesthetic is inspired by several preceding subcultures, fashion trends, and forms of entertainment such as emo, scene, goth, skater culture, hip-hop, anime, and BDSM. The look is trendy on TikTok, a video-based social media platform that has been a hit among Gen Z audiences. The eboy culture is often associated with "sad boy" music, a genre of musicians that compose music based on their feelings of depression and indifference. Black nail polish and dangly cross earrings are also staples of the look. In addition, boys are known to roll their eyes and poke their tongues out frequently.