Must-Visit Destinations! Traveling is a wonderful opportunity to meet new people, view amazing scenery, and make lifetime memories. It doesn't matter if you're a seasoned traveler or just starting out; seeing the world can only help you grow. This post will explore seven places you must go to for unique experiences. These places, which range from bustling metropolises to breathtaking natural wonders, are sure to capture every traveler's mind. Get ready for a thrilling trip by holding onto your seat belts.
1. Tokyo, Japan: A Fusion of Tradition and Modernity
Japan's thriving capital city of Tokyo skillfully combines history and innovation. The city has many attractions, including futuristic skyscrapers, cutting-edge technology, and beautiful gardens and temples. Take in the rich history of the Imperial Palace, the vibrant areas of Shibuya and Shinjuku, and the delectable sushi at Tsukiji Fish Market. Tokyo is a city that every visitor should visit because of its rich cultural richness and dynamic vitality.
2. Cape Town, South Africa: Nature's Masterpiece
Cape Town is a place that astounds tourists. It is tucked between the magnificent Table Mountain and the breathtaking Atlantic Ocean shoreline. Explore the charming Cape Winelands, take in the magnificent views from the summit of Table Mountain, and go on a memorable safari in Kruger National Park. For lovers of the outdoors and thrill-seekers alike, Cape Town provides an unmatched experience with its rich fauna, magnificent scenery, and lively culture.
3. Santorini, Greece: A Slice of Paradise
Whitewashed buildings and turquoise roofs make Santorini, an island in the Aegean Sea, instantly identifiable. Spend some time getting lost in Oia's winding streets, lined with small shops and cafés. Enjoy delicious Greek food while taking in the stunning views of the setting sun over the caldera. Couples and vacationers looking for leisure will find Santorini to be the perfect location because of its entrancing beauty and romantic ambiance.
4. Machu Picchu, Peru: Ancient Wonder of the World
Machu Picchu is an old Incan fortress that radiates mystery and majesty as it is tucked away among the Andes Mountains. Trek down the Inca Trail until you reach the recognizable Sun Gate with a view of Machu Picchu, passing through stunning scenery and historic ruins. Explore the impressive stone monuments and learn about the Inca culture and history.
It is very transformational to visit this UNESCO World Heritage Site. While reaching Machu Picchu typically involves a combination of flights and ground transportation, private jet travel can offer a seamless and luxurious travel experience. You may use a private jet cost estimator that considers the distance, aircraft type, and other criteria to understand the expenses involved.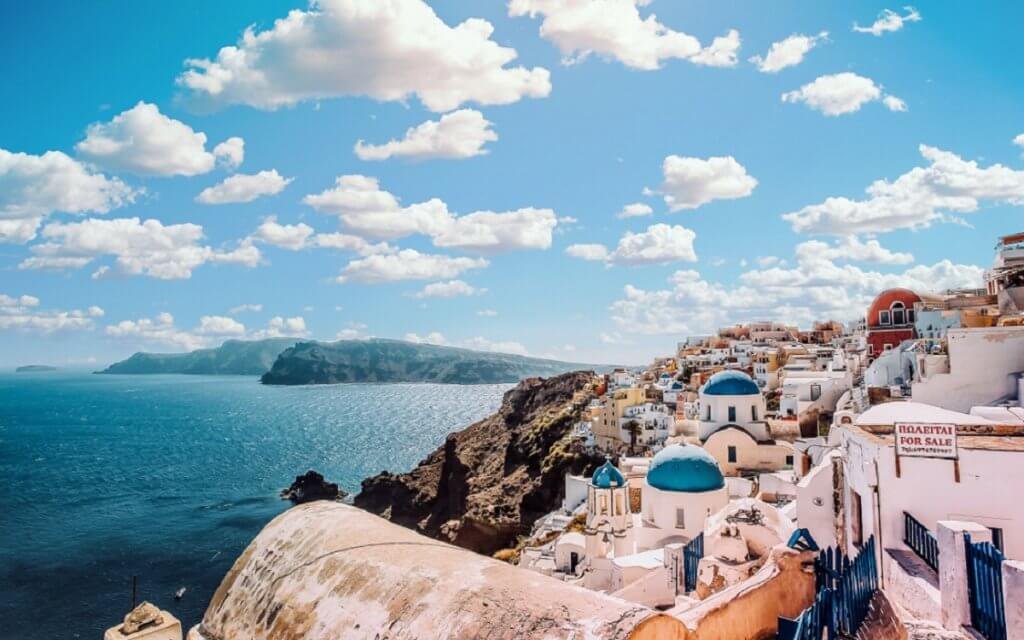 5. French Polynesia's Bora Bora: A Tropical Paradise
Bora Bora is a tropical haven unlike any other, renowned for its immaculate white sand beaches and turquoise seas. Enjoy the bucolic splendor of this South Pacific treasure while staying in opulent overwater bungalows and snorkeling in vivid coral reefs. Taste delectable Polynesian food, enjoy the warm friendliness of the natives, and relax in the lap of luxury. The pinnacle of rejuvenation and relaxation is Bora Bora.
A vacation spot that personifies exclusivity and luxury is Bora Bora. It provides a peaceful retreat from the rush of daily life due to the small number of resorts and remote locations.
6. Reykjavik, Iceland: Land of Fire and Ice
Reykjavik, the capital of Iceland, is a mesmerizing city that provides a singular fusion of natural beauty and energetic metropolitan life. Explore the spectacular landscapes of the Golden Circle, take in geothermal hot springs like the Blue Lagoon, and watch the mesmerizing Northern Lights dance over the night sky. Iceland is a veritable sanctuary for nature enthusiasts and adventure seekers with its volcanoes, glaciers, and geysers.
7. Marrakech, Morocco: Exotic Charm and Culture
Get lost in Marrakech's bright hues, unique scents, and busy souks. You can explore Medina's maze-like alleyways, the magnificent Bahia Palace, and Jemaa el-Fnaa Square to your heart's content. Enjoy delectable Moroccan food, unwind in a traditional hammam, and be amazed by the mosques' beautiful tile work and architecture. Marrakech is a sensory extravaganza that will make a mark on you.
Conclusion
Natural marvels and cultural immersion are just two of the highlights of these seven must-see destinations. These locations will quench your wanderlust whether you're inclined to thriving cities, peaceful beaches, or magnificent scenery. Travel is about opening your eyes to new possibilities, experiencing diverse cultures, and making lifelong experiences. So prepare your next travel and set out on an unforgettable experience.